Sustainable Products and Processes
In recent years, a growing awareness of environmental responsibility has underscored the importance of sustainability. More than ever, businesses and consumers recognize the need for and value sustainable options for products and services. As a regulated market, the cleanroom industry is uniquely challenged in this endeavor due to the nature of its compliance-driven goals.
Sustainability can be more difficult to incorporate into cleanroom manufacturing. In general, cleanrooms are inherently less "green" as they require more energy to operate and maintain an environment suitable for the work being performed inside them.
Many consumables that are used in cleanrooms cannot be recycled because of the ingredients they contain or because they've been contaminated with hazardous materials. At Contec, we understand these challenges and are working on ways we can be more sustainable as well as assist our customers with their sustainability goals.
ReFIBE™ Wipes
Contec Cleanroom's ReFIBE is made from 100% recycled plastic bottles making them a sustainable, single-use option for critical manufacturers in the life sciences, pharmaceutical, medical device, and semiconductor industries. The revolutionary recycling process converts post-consumer plastic to 100% continuous filament polyester, the same substrate used in many of Contec's standard polyester wipes and mops.
How Does ReFIBE™ Work?
The process of waste to wipe provides the user with a clean polyester wipe that has been tested for particles and extractables so it's ideal for the most critical cleanroom applications.
VertiKlean MAX Mops
The attachment plates associated with VertiKlean MAX, VertiKlean MAX Sealed Edge and CleanScrub mops are made with recycled materials. These materials were tested for compatibility with various solutions and are ideal for use in cleanroom environments.
Sustainable Innovation for a better tomorrow
To ensure our associates can spend time giving back to their local communities in ways that are most meaningful to them, Contec offers all US-based employees up to 40 hours of paid time off annually to be spent volunteering with the non-profits and educational organizations of their choice.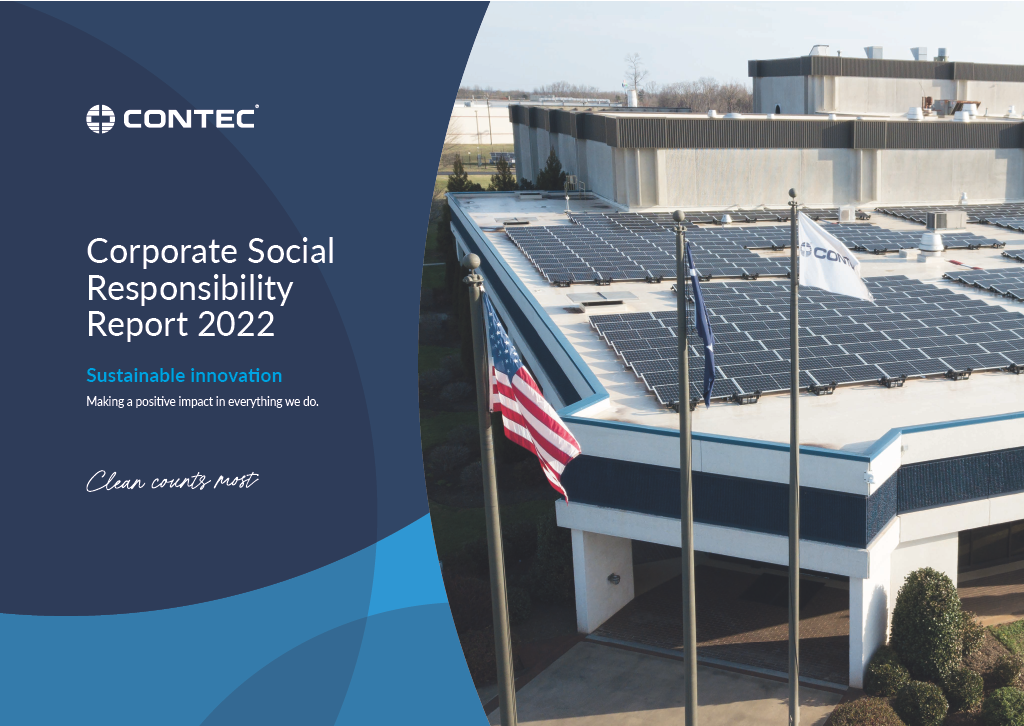 Recyclable Packaging
Contec strives to use recyclable packaging as much as possible. As our Corporate Social Responsibility report states, we will utilize recyclable packaging to reduce landfill waste. Recycling information is available on our Product Data Sheets.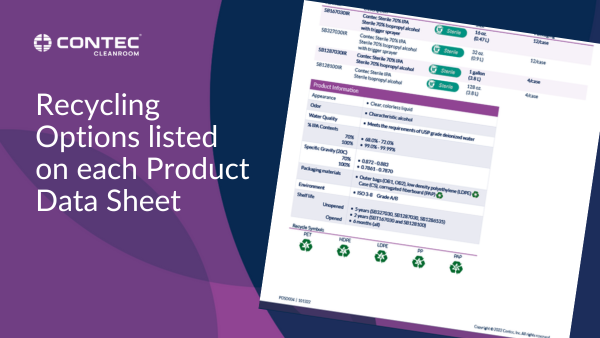 Solar Panels
Contec installed 2,888 solar panels that supply power to our facilities. The two systems totally 625.5 kWdc, serve as on-site electrical generation for Contec, expanding efforts to manufacture goods with renewable energy and offset Contec electricity usage by an estimated 25%.